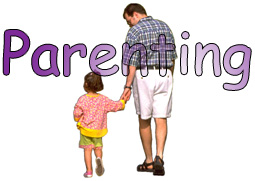 OK, the first day of my 30-day positive parenting habit passed yesterday, and here's my report:

Day 1 Zero yellings or spankings: Successful (1/1 days)
Praise or talk gently to each child at least once: Fairly successful (1/1 days)
Show love and affection for each child at least once: Only partially successful (0/1 days)

I need to make it a point to praise and show affection to each of my children. As I have six of them, this can be a difficult thing to remember. My daughter, Chloe, suggested that I wear a rubber band around my wrist, as a reminder. This is a good idea, and I think I'll give it a try.

Research on the Web
I think one of my problems is that I genuinely do want to be more positive, but I'm sure exactly how to do it. I'm doing some research and here are some tips I've found so far:

From What is Positive Discipline (pdf):

Mutual respect. Adults model firmness by respecting themselves and the needs of the situation, and kindness by respecting the needs of the child.
Identifying the belief behind the behavior. Effective discipline recognizes the reasons kids do what they do and works to change those beliefs, rather than merely attempting to change behavior.
Effective communication and problem solving skills.
Discipline that teaches (and is neither permissive nor punitive).
Focusing on solutions instead of punishment.
Encouragement (instead of praise). Encouragement notices effort and improvement, not just success, and builds long-term self-esteem and empowerment.
Some of the better tips from
Positive Discipline Guidelines:
Celebrate each step in the direction of improvement rather than focusing on mistakes.


A great way to help children feel encouraged is to spend special time "being with them." Many teachers have noticed a dramatic change in a "problem child" after spending five minutes simply sharing what they both like to do for fun.

When tucking children into bed, ask them to share with you their "saddest time" during the day and their "happiest time" during the day. Then you share with them. You will be surprised what you learn.

Have family meetings or class meetings to solve problems with cooperation and mutual respect. This is the key to creating a loving, respectful atmosphere while helping children develop self-discipline, responsibility, cooperation, and problem-solving skills.

Teach and model mutual respect. One way is to be kind and firm at the same time—kind to show respect for the child, and firm to show respect for yourself and "the needs of the situation." This is difficult during conflict, so use the next guideline whenever you can.

Proper timing will improve your effectiveness tenfold. It does not "work" to deal with a problem at the time of conflict—emotions get in the way. Teach children about cooling-off periods. You (or the children) can go to a separate room and do something to make yourself feel better—and then work on the problem with mutual respect.

Use Positive Time Out. Let your children help you design a pleasant area (cushions, books, music, stuffed animals) that will help them feel better. Remember that children do better when they feel better. Then you can ask your children, when they are upset, "Do you think it would help you to take some positive time out?"
Focus on solutions instead of consequences. Many parents and teachers try to disguise punishment by calling it a logical consequence. Get children involved in finding solutions that are (1) related (2) respectful (3) reasonable.
Make sure the message of love and respect gets through. Start with "I care about you. I am concerned about this situation. Will you work with me on a solution?"
There are many more good articles out there on Positive Parenting, and I'll be posting some of my better finds as the month goes along.
See also: